Check out a brand new trailer, poster and photos from New Line's upcoming romantic comedy Valentine's Day. "Valentine's Day" follows the lives of couples breaking up and making up on the most holiest day of them all.
Valentine's Day, Jennifer Garner and Jessica Biel The movie is directed by Garry Marshall ("Pretty Woman," "The Other Sister," "Exit to Eden," "Runaway Bride," "The Princess Diaries"). Abby Kohn and Marc Silverstein wrote the script for the romantic movie.
Valentine's Day, Bradley Cooper and Julia Roberts Garry Marshall has put together an all star cast including Bradley Cooper, Patrick Dempsey, Taylor Lautner, Julia Roberts, Jessica Alba, Anne Hathaway, Ashton Kutcher, Jessica Biel, Jennifer Garner, Emma Roberts, Topher Grace, Taylor Swift, Jamie Foxx, Queen Latifah, Shirley MacLaine, Carter Jenkins, George Lopez and many more.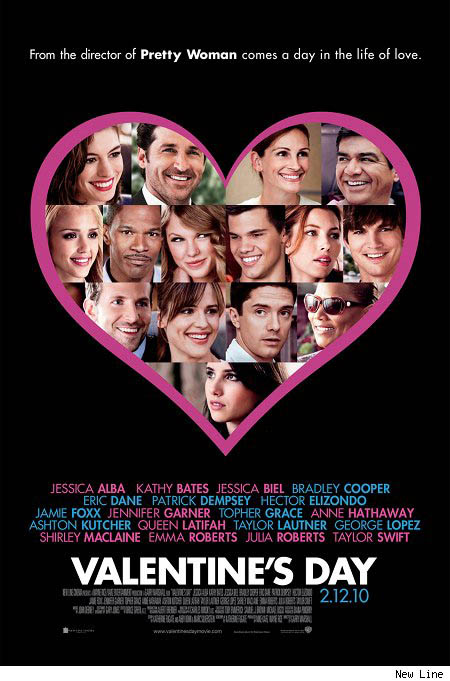 Valentine's Day Poster

"Valentine's Day" will hit theaters, of course, on February 12th, 2010.