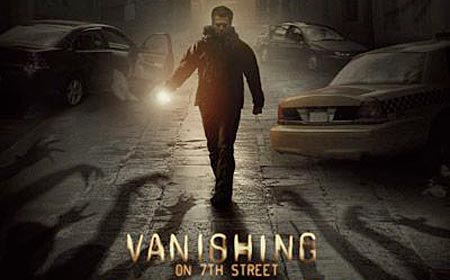 A new poster for the strange apocalypse film Vanishing On 7th Street is out.
From director Brad Anderson (Session 9, Transsiberian, The Machinist) comes Vanishing on 7th Street, a terrifying, apocalyptic thriller that taps into one of humankind's most primal anxieties: fear of the dark. An unexplained blackout plunges the city of Detroit into total darkness, and by the time the sun rises, only a few people remain—surrounded by heaps of empty clothing, abandoned cars and lengthening shadows.
A small handful of strangers that have survived the night (Hayden Christensen, Thandie Newton, John Leguizamo and young R&B sensation Jacob Latimore) each find their way to a rundown bar, whose gasoline-powered generator and stockpile of food and drink make it the last refuge in a deserted city. With daylight beginning to disappear completely and whispering shadows surrounding the survivors, they soon discover that the enemy is the darkness itself, and only the few remaining light sources can keep them safe. As time begins to run out for them, darkness closes in and they must face the ultimate terror.
Vanishing on 7th Street, which premiered at this year's Toronto Film Festival, is available as video on demand starting January 7, 2011 with a limited theatrical release slated for February 18th, 2011.

Vanishing On 7th Street Poster