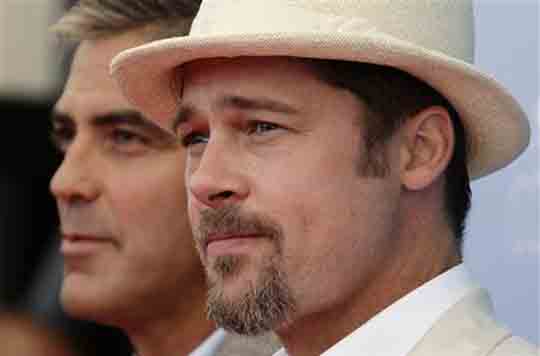 "Burn After Reading" (George Clooney, Brad Pitt, John Malkovich, Tilda Swinton, Frances McDormand) finally had its long awaited premiere at Venice Film Festival. The movie re-unites Joel and Ethan Coen with George Clooney, who appeared in "O Brother, Where Art Thou?" and actress Frances McDormand (Joel's wife) who won an Oscar for her role in their 1996 film "Fargo".
"I've done three films with them and they call it my trilogy of idiots"
Clooney told reporters after a press screening ("O Brother, Where Art Thou?", "Intolerable Cruelty" and "Burn After Reading"). He plays a nervous, twitchy federal marshal whose extra-marital affairs bring him into contact with a gym instructor, played by Pitt, desperately seeking to extort money from a sacked CIA analyst whose memoirs go missing.
"After reading the part, which they said was hand-written for myself, I was not sure if I should be flattered or insulted"
said Brad Pitt, whose character the directors describe as a "knucklehead".
Brad was asked how the chosen ones are doing. "The twins are fine. They can speak 10 languages, they are on their way to finding the cure for cancer and they just qualified for the Olympics in 2012. They will compete in every single event," he said. Joel Coen said he and his brother had "a long history of writing parts for idiotic characters." Although there are five U.S. films in the main competition lineup of 21, they represent "independent" cinema as opposed to the big studios, which are not in Venice this time around. Festival director Marco Mueller said that writers' strike that ended in February hurt the selection for Venice and added: "American cinema is very much at the centre of the program." But, the last two years, there was a surprise in-competition announced at the last minute. So, everything is possible. "Burn After Reading" is not in competition, but U.S. films in the main lineup include "Rachel Getting Married", directed by Oscar-winner Jonathan Demme and starring Anne Hathaway and Debra Winger, who has been nominated three times for an Academy Award. Kathryn Bigelow directs Iraqi drama "The Hurt Locker", a year after Brian De Palma's "Redacted" stunned audiences in Venice with its brutal reconstruction of events from the war. Mickey Rourke stars in Darren Aronofsky's "The Wrestler" while acclaimed Mexican screenwriter Guillermo Arriaga makes his directorial debut with "The Burning Plain" starring Oscar winners Charlize Theron and Kim Basinger. Natalie Portman's directorial debut will open the Venice Film Festival's short-film sidebar – Corto Cortissimo, with the actress-director expected to be on hand for the event's Sept. 1 opening. Portman's 17-minute "Eve," which Venice organizers called "a civilized comedy," stars Lauren Bacall and Ben Gazzara.