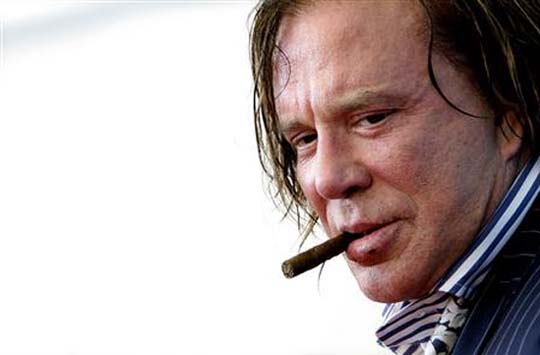 The competition film, "
The Wrestler
," which stars
Mickey Rourke
,
Marisa Tomei
and
Evan Rachel Wood
, packed three Venice screenings Friday and prompted speculation among festival participants that Mickey Rourke could be a candidate for Venice's best actor prize, which will be announced with the other major awards Saturday. Mickey Rourke has given what critics are calling the performance of his life in
Darren Aronofsky
's "The Wrestler" in which he plays a lonely, washed out wrestler whose story poignantly mirrors the Hollywood outsider's own troubled past.
"The Wrestler" was "the best … movie I've ever made."
The film, the last of 21 movies in the main competition to premiere, is a contender both for the top actor award and the coveted
Golden Lion
for best picture, critics say. The festival wraps Saturday with its prize ceremony.
Anne Hathaway
also impressed in her unusually dark role in "
Rachel Getting Married
,"
Jonathan Demme
's touching wedding drama that has been lauded in Venice. A third late entry, Thursday's premiere, "
The Hurt Locker
" by U.S. director
Kathryn Bigelow
, leads an informal poll of Italian critics who were impressed by its portrayal of the perils faced by a bomb disposal unit in Iraq led by a reckless sergeant. Also impressive was Oscar-winning actress
Charlize Theron
in "
The Burning Plain
," an intense story of love and betrayal in the directorial debut by Mexican screenwriter Guillermo Arriaga. The Italian press is hoping for a first home win in 10 years with "
Birdwatchers
," a depiction of indigenous Guarani-Kaiowas with no prospects other than working in slave-like conditions for rich farmers and posing for tourists' cameras.
Venice Film Festival
has a reputation as a launchpad for successful award campaigns for serious, independently produced films, but in a year when director Marco Mueller has been under fire for his selection, few Academy Award contenders emerged. The
Coen brothers
opened this year's festival with "
Burn After Reading
," which was out of competition but ensured that Hollywood A-listers
Brad Pitt
and
George Clooney
were on the red carpet in a festival otherwise lacking star power. The first awards already have been dished out. Mexico's
Carlos Armella
took home the
Corto Cortissimo
sidebar's prize for best short film for his "
Tierre y Pan
," while
Karchi Perlmann
's "
The Dinner
" nabbed an honorable mention. The sidebar received added attention when
Natalie Portman
's directorial debut, "
Eve
," opened the section out of competition. Venice's 1985 Golden Lion winner
Agnes Varda
won the Glory to the Filmmaker career award Thursday and will be honored with a world premiere screening of her autobiographical doc "
The Beaches of Agnes
." Thursday featured news of the festival's first sales. Although the industry office won't report sales totals until the festival closes, Italy's RAI Trade said it has sold distribution rights to
Pupi Avati
's competition drama "
Il Papa di Giovanni
" to Paradis for France, ABC Films for Belgium and Holland, and Palance Pictures for Australia. In a Venice competition that finished strongly after disappointing critics for much of the 11-day event, the U.S. trio faces stiff competition from revered Japanese animator
Hayao Miyazaki
, who charmed viewers with "
Ponyo on the Cliff by the Sea
," his re-telling of "
The Little Mermaid
" fairytale. If Miyazaki walk off with the Golden Lion, it would be the fourth year in a row an Asian director had done so.