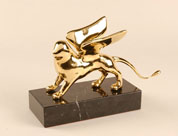 The 65th Venice International Film Festival (Mostra Internazionale d'Arte Cinematografica di Venezia), organised by the Venice Biennale, will take place on the Venice Lido from August 27th to September 6th 2008.
Marco Müller will be the director of the upcoming edition, continuing the work he began in 2004.
Along with Enrico Magrelli, the Director's right hand for cultural programming, sixteen consultants will participate in the selection and search process for the 65th Venice Film Festival.
The 2008 Selection Committee will include: Violetta Bellocchio, Paolo Bertolin, Marie-Pierre Duhamel, Claudio Masenza and Alberto Pezzotta.
Venice's 22-film competition lineup has been made up entirely of world premieres the past two years, and the festival is said to be looking to make it three in a row.
More than three months before the Coen brothers' "Burn After Reading" opens the festival, few contracts have been signed.
Films mentioned to premiere ( 'Burn After Reading' is already confirmed) at Venice include:
Saul Dibb's "The Duchess" – Kiera Knightley and Ralph Fiennes
Ridley Scott's "Body of Lies" – Leonardo DiCaprio and Russell Crowe
Baz Luhurmann's "Australia" – Hugh Jackman and Nicole Kidman
Marco Bechis' contemporary drama "Birdwatchers"
Spike Lee's  Italian-American co-production "Miracle at St. Anna"
Samira Makhmalbaf's "Two-Legged Horse"
Sandra Nettelbeck's "Helen"
Diane English comedy "The Women " – Eva Mendes, Meg Ryan and Carrie Fisher
Of course that this is not official.
The line-up of the 65th Venice Film Festival will be announced during a press conference that will take place at the end of July in Rome.
Source: Hollywood Reporter