This 61st Cannes Festival is marked by Woody Allen's return to the Croisette to present his latest film, Vicky Cristina Barcelona, starring Scarlett Johansson, Penelope Cruz, Rebecca Hall and Javier Bardem, out of Competition. The quintessential Manhattan director is a veteran of the official selection, with Match Point (2005), Hollywood Ending (2002), New York Stories (1989), Radio Days (1987), Hannah and her Sisters (1986), The Purple Rose of Cairo (1985), Broadway Danny Rose (1984), Bonjour Monsieur Lewis (1982), and Manhattan (1979).
As its title indicates, the story is set in the sizzling Catalonian capital. Vicky and Cristina, two young Americans with different attitudes towards love, have come to spend the summer in the Spanish sunshine. They find themselves swept up in a surprising series of sexual adventures with a charismatic artist, Juan Antonio, who is still bound to his ex-wife, the impetuous Maria Elena…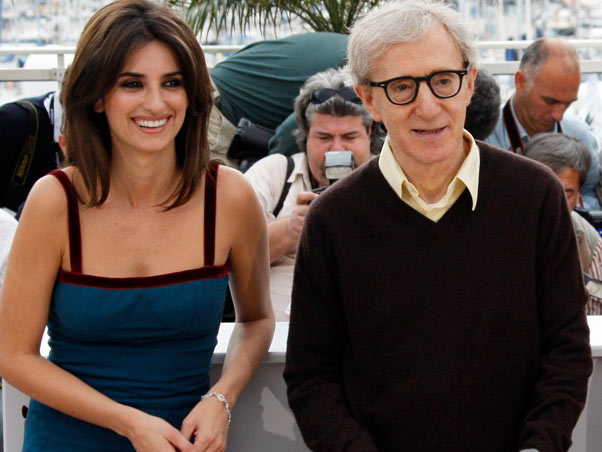 "When I began writing the script," recalls Allen, "I had no other intention than to write a story in which Barcelona would be a key character. I wanted to spotlight a city I love a lot. In addition to its fabulous beauty, it is imbued with a very romantic atmosphere. Places like Paris or Barcelona are the only ones where a story like this one could be conceived."
Regarding the casting, Woody Allen explained: "From time to time, in my professional life, I meet an actress whose qualities inspire me. Scarlett is very intelligent, sexy, and gifted, and she can play a wide range of parts. She also has a sharp wit, and comes up with verbal inventions that dazzle me. As for Penelope, she is a force of nature, like Maria Elena. She's beautiful, and incredibly sexy in a way that is hers alone. And, of course, she's an amazing actress. Obviously, I had everything I wanted."
"The only parts of Woody Allen's Vicky Cristina Barcelona that really and truly feel alive and crackling are the Spanish-language scenes between Javier Bardem and Penélope Cruz. These two, portraying a pair of identically tempestuous, self-obsessed painters whose marriage has fallen apart due to an overabundance of heat and impulse and Spanish vinegar, are dynamite together. They create spark showers when they rage and taunt and rekindle their mutual hunger." The problem? A "persistent, obnoxious, unwanted and thoroughly unnecessary narration track… There were boos." writes Jeffrey Wells.
But for Variety, VCB, is "a sexy, funny divertissement that passes as enjoyably as an idle summer's afternoon in the titular Spanish city…. Just as London did when Allen went there for Match Point, the Catalan capital serves as an evident stimulus for the director. Even if the film provides a strictly tourist's view of the city (a perspective justified by the scenario, in fact), and one just as upscale and heedless of money as ever for Allen, VCB is by several degrees more hot-blooded than his usual norm, thanks especially due to the palpable chemistry of Bardem and Cruz in the second half. The film is all about sexual attraction and what to do about it (and in what combinations)."
Vicky "as close to consistently delightful as Allen has been able to deliver since 1994's Bullets Over Broadway…. This sunny romantic comedy could well be the director's biggest audience-pleaser in years. Taking place over a summer in picturesque Barcelona, Allen and his local DP Javier Aguirresarobe (Talk to Her, The Sea Inside) set their attractive cast against a lush backdrop of colourful Gaudi architecture, lavish cityscapes and rural idylls which douse the love tangles and intrigue of the story in a blissful ambiance straight out of a Shakespeare comedy." – ScreenDaily
"The story opens with Vicky (Rebecca Hall) and Cristina (Scarlett Johansson), two best friends heading to Barcelona for eight weeks of fun.Vicky's distant relations Judy (Patricia Clarkson) and Mark (Kevin Dunn) live in Barcelona, and have invited the girls to spend the summer there, where Vicky will do research for her Masters and Cristina will soak up the local culture. Vicky is engaged to be married to Doug (Chris Messina), a stalwart, likable, but rather boring young man, and Cristina is recovering from her latest breakup and looking for an artistic outlet for her pent-up creativity…. Suffice it to say that Allen has created one of his best works in years, a film that is funny, philosophical, and imaginatively explorative of the meaning of love and desire." – Cinematical
"The film belongs to Bardem and Cruz. This is a Spanish version of Private Lives, a couple that cannot live apart or together, whose love will always burst into fiery combat. Their scenes are some of the funniest Allen has ever put on film, and the culmination of this love/hate tango is not to be missed." – Hollywood Reporter
"Here's a sentence I wasn't expecting to write: Woody Allen's "Vicky Cristina Barcelona" is… fun. It's not sexy, despite all the buzz about the Scarlett Johansson/Javier Bardem/Penélope Cruz menage and sapphic snuggling between Johansson and Cruz, which, sorry to disappoint, consists only of an ungainly kiss. But it is an enjoyable fling of a film, and enjoyment is something that seemed to have dropped off Allen's list of interests entirely.
"Vicky Cristina Barcelona" is something of a play date between typical Allen characters and ones from an Almodóvar film. The Americans are Vicky (Rebecca Hall, wiping the floor with her more famous co-star), the sensible, responsible, engaged one, and her best friend Cristina (Johansson), the artistic dabbler in search of herself and doomed, wild romance. They occupy an income bracket in which it's possible to spend the summer in Spain taking in Gaudí, to effortlessly flee to Antibes for a few weeks to clear one's head, and to grow weary of discussions of home purchases in Westchester. At an art opening, they run into an extremely Spanish painter, Juan Antonio, played by Javier Bardem on giggle-inducing perma-smolder. Juan Antonio dallies with Vicky (who makes him work for it) and then with Cristina (who doesn't), seducing them with melancholy music, soulful talk of art and emotions and tales of his tempestuous relationship with his ex-wife Maria Elena (Cruz), who he still loves but can't bear to be with. Well, until he is — she storms back into his life, gloriously insane, and soon she's moved in with him and an uneasy Cristina, for whose benefit Juan Antonio keeps barking "We speak English here!"
The film's main pleasure, Bardem and Cruz are combustibly funny together, able to escalate from normal conversation into a red-faced shouting match in seconds. Cruz's Maria Elena, in runny eyeliner and skimpy outfits, is wildly beautiful, wildly brilliant, wildly moody and wildly wild — she, like Juan Antonio, is a cartoon, but one that jabs at all of the unspoken insecurities of the American girls, who worry that they lack substance and passion compared to these fiery European souls." writes Alison Willmore