You probably already know this, but
Dennis Quaid
and
Seth MacFarlane
explain to you what's happening in
Movie 43
in the latest TV spot. Yes, it's an outrageous comedy split into fifteen different shorts directed by a bunch of different people.
Peter Farrelly
produced the film and served as the main director, while each segment was directed by a different director including
Elizabeth Banks, Steven Brill, Steve Carr, Rusty Cundieff, James Duffy, Griffin Dunne, Patrik Forsberg, James Gunn, Bob Odenkirk,Brett Ratne
r, and
Jonathan van Tulleken
. The cast also includes Banks along with
Kristen Bell, Halle Berry, Leslie Bibb, Kate Bosworth, Gerard Butler, Josh Duhamel, Anna Faris, Richard Gere, Terrence Howard, Hugh Jackman , Johnny Knoxville, Justin Long, Christopher Mintz-Plasse, Chloe Moretz, Liev Schreiber, Sean William Scott, Emma Stone, Jason Sudeikis, Uma Thurman, Naomi Watts, Aasif Mandvi, John Hodgman, Kieren Clukin, Tony Shalhoub
, and
Kate Winslet
, respctively. A collection of loosely related shorts follows three kids as they search the depths of the Internet to find the most banned movie in the world. The upcoming comedy is not for the easily-offended and contains jaw-dropping, sometimes a shocking and disturbing, but always amusing intertwined storylines you'll just have to see to believe. [youtube]http://www.youtube.com/watch?v=xpE8M0LcemE[/youtube] Movie 43 opens January 25th, 2013.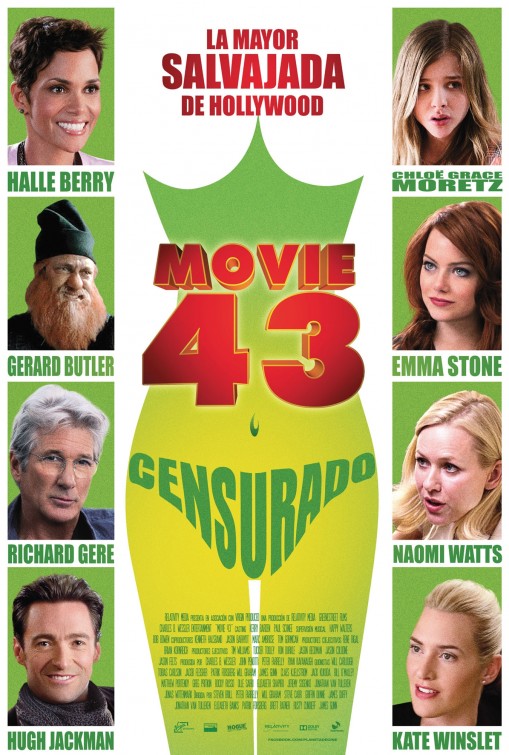 Source:
Deadline