Well, Lionsgate has brought online a fresh spot for
Texas Chainsaw 3D
and the new one's called 'Happy New Year'. A new year, a new beginning for the legendary story of the homicidal Sawyer family. Directed by
John Luessenhop
a direct sequel to the original 1974 film centers on Heather, who is
traveling
through Texas with her boyfriend Ryan to collect an inheritance which, unknown to her, includes her cousin – lovely Leatherface. The horror film opens in theaters on January 4th, 2013 starring
Alexandra Daddario
(Heather Miller),
Dan Yeager
(Leatherface),
Tania Raymonde
(Nikki),
Tremaine 'Trey Songz' Neverson
(Ryan),
Keram Malicki-Sanchez
(Kenny),
Shaun Sipos
(Darryl),
Thom Barry
(Sheriff Hooper),
Paul Rae
(Burt Hartman),
Scott Eastwood
(Carl),
Richard Riehle
(Farnsworth) along with special appearances from four cast members from previous installments of the franchise —
Gunnar Hansen, Marilyn Burns, John Dugan
and
Bill Moseley
, respectively. Head inside to watch a special New Year themed spot, in which the audience is reintroduced to Leatherface to the strains of a traditional Scottish song Auld Lang Syne. [youtube]http://www.youtube.com/watch?v=plNJGqGmXp0[/youtube]
Decades later and hundreds of miles away from the original massacre, a young woman named Heather learns that she has inherited a Texas estate from a grandmother she never knew she had. After embarking on a road trip with friends to uncover her roots, she finds she is the sole owner of a lavish, isolated Victorian mansion. But her newfound wealth comes at a price as she stumbles upon a horror that awaits her in the mansion's dank cellars.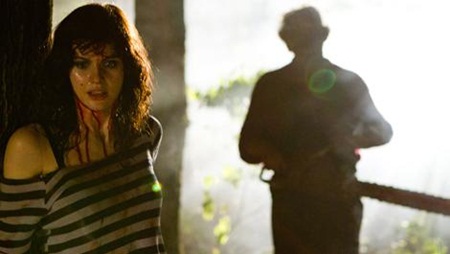 Source: CominSoon