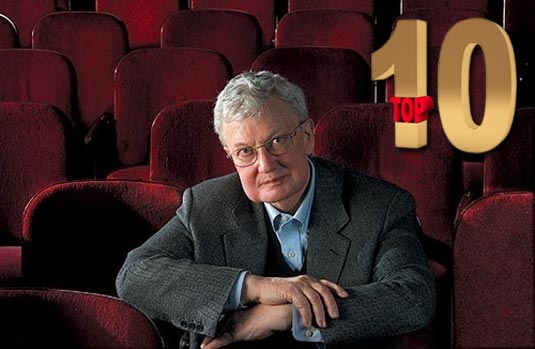 A famous critic Roger Ebert (Chicago Sun-Times since 1967) has written a column dealing with the current MPAA (Motion Pictures Association of America) ratings system, and what should be done to fix it. Ratings vary from country to country. On the other side MPAA should have changed its standards long ago (G, PG, PG-13, R and NC-17, created in 1968). But in today's real world, there are only two significant ratings: R and not-R. What's Ebert's idea? A new kind of rating system much faster and easier. Perhaps only three categories are needed: "G," for young audiences, "T" for teenagers, and "A" for adults". At this moment I would like to skip that aspect of public rating system and focus on comparison of Robert Ebert's top 10 movie list with other annual listing and presence of the certain movies. The popular lists are IMDb's, Twitter's, AFI's and Stephen King's Top 10. No doubt the most frequently rated movie is Inception (directed by Christopher Nolan) – Mr Ebert said it was brilliantly visualized movie and ranked it as the sixth. On the second place is The Social Network (directed by David Fincher) the highly ranked movie on Mr Ebert's list. IMDb and AFI also voted for Black Swan (directed by Darren Aronofsky) with actors whose performance Robert praised. Winter's Bone drama and The Kids Are All Right comedy-drama film are both present on one more list only. Second ranked Hooper's The King's Speech was not published on aforementioned lists. The same happened with I Am Love by masterful Tilda Swinton. Roger Ebert's Top 10 Movies of 2010:
The Social Network
The King's Speech
Black Swan
I Am Love
Winter's Bone
Inception
The Secret in their Eyes
The American
The Kids Are All Right
The Ghost Writer
Will the Oscar Awards in the main categories follow Golden Globes nominations (as well as Robert Ebert favorites) The King's Speech and The Social Network and lead them to reign supreme or Inception is a lock to win an Oscar?