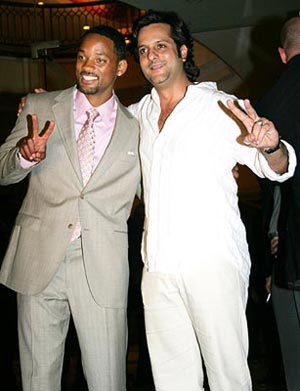 The "Hancock" star Will Smith – who has made his name by landing lead roles in a series of big blockbuster action movies – thinks it is time to try his hand at a different genre. After a visit to Agra with his son to see the Taj Mahal on Tuesday, Hollywood superstar Will Smith spent the next day catching up with Bollywood personalities. He said:
"I've made a couple of speculative deals in India. We've got some Bolly-Will movies going on!"
There is a little bad news though. Will dismissed claims he is planning to make a follow-up to his hit movies "Bad Boys" and "Bad Boys 2". He added to T4 Sunday presenter Steve Jones:
"I probably won't do that. There have been pitches, and the concept is genius for 'Bad Boys 3' but I've moved on now."
It was recently reported Will had begged director Michael Bay to let him reprise his role for a third time because his son is such a big fan of the movies. Will and Martin Lawrence starred in the first film in 1995, with the sequel being released eight years later.