Movie News
Your Life Adjusted: The Adjustment Bureau Video Project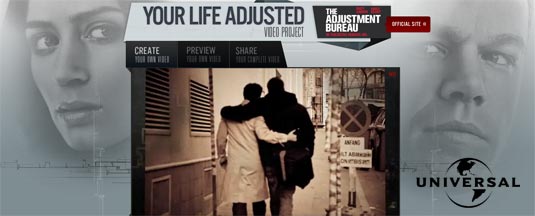 Universal Pictures has announced that Your Life Adjusted: The Adjustment Bureau Video Project launched today with a crowd-sourced, interactive video that evokes the theme of transformative moments as seen in the upcoming romantic thriller The Adjustment Bureau. The video was created by using hundreds of photos submitted by people around the world, including the film's stars, Oscar® winner Matt Damon and Emily Blunt. The film arrives in theaters on March 4.
The project began in December 2010, when the film's writer/director, George Nolfi, issued a call for "milestone moments" from audiences. Of the thousands of images submitted, Nolfi handpicked a selection that chronicles our lives, from birth to old age. He then added characters from the film to create this timeline and show how it has been adjusted by the agents of Fate itself, The Adjustment Bureau. Throughout the video, members of this mysterious group that exerts control over our lives pop up at key moments…making sure everything is going according to their plan.

The Adjustment Bureau Wallpaper
Visitors to www.yourlifeadjusted.com are invited to create their personal narratives and see their lives through the eyes of The Adjustment Bureau. Images chosen by users may be added to the timeline, and the resulting video can be shared with friends and family via Facebook, Twitter and e-mail.
"Technology is now at a point where it's possible for mainstream Hollywood entertainment to become interactive with the public," commented Nolfi. "That's something that excites me a lot. I think more direct filmmaker-audience interaction is the future, and I hope this project is an early step in that direction."
The original song that provides the evocative soundtrack for the video is "Future's Bright," by Richard Ashcroft (former front man of The Verve) and Grammy-winner Thomas Newman (WALL•E, American Beauty, The Shawshank Redemption). The song was written for the film and is available on the original motion picture soundtrack.
[youtube]http://www.youtube.com/watch?v=wZEBfZDkaVw[/youtube]
If you haven't seen The Adjustment Bureau trailer, check it out now!