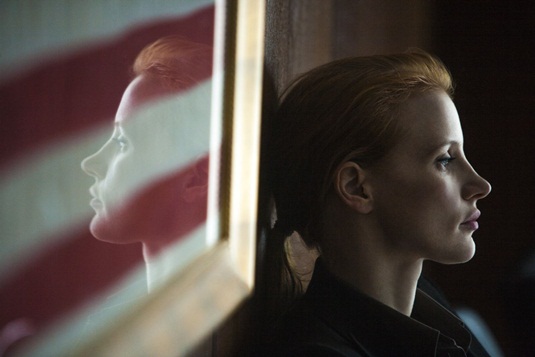 Kathryn Bigelow
's new film,
Zero Dark Thirty
gives a misleading impression that torture was an important part of finding Bin Laden, but it is one of three leading contenders (Lincoln and Argo) in the annual battle for Hollywood's best picture Oscar. The film falsely credits brutal interrogation techniques with having helped locate Osama Bin Laden so it is possible that the senatorial assault on Zero Dark Thirty will hurt the film's Oscar chances, but it could just as easily fire up a voter base as well. Bigelow and screenwriter/producer
Mark Boal
began work on a film back in 2008 and the political drama-thriller was shoved into the limelight when Bin Laden was actually killed during a raid of his compound in May 2011. The film earned four Golden Globe nominations including Best Picture – Drama, Best Director, and Best Actress – Drama for
Jessica Chastain
(above) and had its premiere in Los Angeles, California on December 18th, 2012 before going wide on January 11th, the day after Oscar nominations are announced. The controversial Zero Dark Thrity film also stars
Jason Clarke, Joel Edgerton, Chris Pratt, Kyle Chandler
, and
Mark Strong
. Check out the latest images for a 2 hour, 37 minute semi-fictional hunt for OBL, which working title for the film was For God and Country.
Source:
Kino-govno.com