Movie Photos
ZOMBIE HUNTER Behind-the-Scenes, New Set Photos & Another Poster!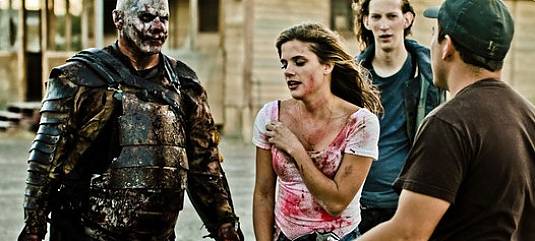 We already shared the first trailer and some awesome posters for Kevin King's upcoming horror movie Zombie Hunter, remember? Ok then, it's time for a little update 'cause we finally have a brand new Behind-the-Scenes video, some pretty cool set photos and another new poster to share with you, and I'm sure you're going to love it! Check them all out in the rest of this report, and get ready for another zombie-adventure!
I will once again remind you that the whole thing comes from writer/director King, and that the movie revolves around the vengeful Hunter, played by Martin Copping, and his journey through the post-apocalyptic, zombie-infested wasteland.
Beside Copping, Zombie Hunter also stars Danny Trejo, Clare Niederpruem, Jade Gordon, Amy Savannah and Jason K. Wixom.
Still nothing about the release date, but as usual – we'll keep you updated! In the meanwhile check out this new video and an official synopsis part once again, and let us know what you think! [youtube]https://www.youtube.com/watch?v=9ZybwzwBMzk[/youtube]
A new street drug called NATAS unleashes a zombie apocalypse that spreads like wildfire and mutates its users into flesh eaters. We follow one man, Hunter, who has nothing left but a beat-up Camero and a trunk full of guns and booze. He runs down flesh eaters, hunting them for sport and redemption from his tortured past. After crashing into a small group of survivors, led by an ax-wielding priest named Jesus (Trejo), Hunter is seduced into escorting the eclectic group (strippers, rednecks, and an innocent beauty) to a mythical place of refuge, while under constant assault from zombies and a chain-saw wielding psychotic clown. But a surprise attack by a new breed of giant mutant flesh eaters (VFX creatures) forces them on the run, and puts the Hunter's skills to the test.