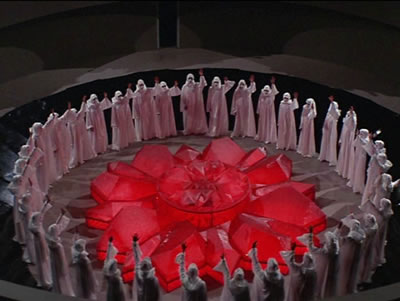 The remake of Logan's Run. Yes? No? Well, we definitely have information that you should mark yes, because Carl Rinsch is in talks to direct the movie for Warner Bros.
Now that's what we call a surprise! This remake has been in development for over a decade or something? And we all thought that Rinsch was going to take on that Alien prequel, huh? Check out the rest of this report…
The original film, directed by Michael Anderson, was released in 1976, and revolves around a man known as Logan 5, who is trying escape a mandatory death sentence on his 30th birthday.
The story centers on a future society that demands the death of everyone upon reaching a certain age. Anyone who veers from that destiny is dubbed a "runner" and is hunted by operatives known as Sandmen. Remember that on-screen preamble?
"Sometime in the 23rd century…the survivors of war, overpopulation and pollution are living in a great domed city, sealed away from the forgotten world outside. Here, in an ecologically balanced world, mankind lives only for pleasure, freed by the servo-mechanisms which provide everything. There's just one catch: Life must end at thirty unless reborn in the fiery ritual of Carousel."
The movie is based on the 1967 novel by William F. Nolan and George Clayton Johnson, and starred Michael York, Richard Jordan, Jenny Agutter and Farrah Fawcett.
As we said, Logan's Run remake has been in development since the mid-nineties when Warner Bros first acquired the rights to the story. Bryan Singer had been set to helm this remake back in 2004 but he moved on to Superman Returns instead.
Several other directors including Robert Schwenke, James McTeigue and Joseph Kosinski have been linked to the project since then. And now, finally someone new, Carl Rinsch, the director who was in charge for that sci-fi short called The Gift that he made for electronics giant Philips.
Let's wait and see. This could be something good, so we're expecting more updates about this remake. Make sure you stay tuned!
[youtube]http://www.youtube.com/watch?v=4WUUnc1M0TA[/youtube]
Logan's Run 1976 Trailer