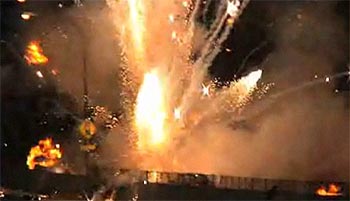 Several very cool new explosive videos taken from the set of Michael Bay's "Transformers: Revenge of the Fallen" have made its way to meet fans' enjoyment.
A sequel to hit blockbuster "Transformers", "Revenge of the Fallen", will center the story on the battle between Autobots and their new enemy, the Fallen. It is said that in the sequel, the Autobots is going to seek help from their defeated foe, Megatron as Fallen is far stronger than them.
Starring Shia LaBeouf as Sam Witwicky, the human friend of the friendly alien robots Autobots, the flick is also supported by Megan Fox, Josh Duhamel, Tyrese Gibson, John Turturro, Isabel Lucas, Rainn Wilson and many others.
"Transformers 2: Revenge of the Fallen" hits theaters on June 26th, 2009. [Source: Transformers Live]
[youtube width="425" height="355"]http://www.youtube.com/watch?v=7amlNk4VNmQ[/yo[/youtube]
[you[youtube width="425" height="355"]://www.youtube.com/watch?v=LwkW5Ud–08[/youtub[/youtube]style="text-align: center;">[youtube[youtube width="425" height="355"]ww.youtube.com/watch?v=15P-r0GuUkw[/youtube][youtube wid[youtube width="425" height="355"]outube.com/watch?v=OSWk_9-VJIs[/youtube]
<[/youtube]"swp_social_panel swp_flat_fresh swp_default_full_color swp_individual_full_color swp_other_full_color scale-100 scale-" data-position="below" data-float="none" data-float-mobile="none" data-count="0" data-floatcolor="#ffffff ">