Here's our very first look at Scarlett Johansson as Black Widow in Jon Favreau's "Iron Man 2."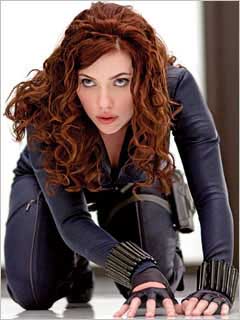 You can also see Robert Downey Jr. on the cover of Entertainment Weekly's Comic-Con preview issue and Mickey Rourke as Whiplash wearing his armor suit with a power pack on his chest that looks similar to that of Iron Man's.
Whiplash is the alter ego of Ivan Vanko, a Russian who, Favreau says, "has constructed his own version of a suit." Among the creative alterations: a pair of whips, powered by the suit's glowing chest piece, expected to keep Iron Man cracking. Whiplash "is going to light them up," says Rourke.
"Iron Man 2″ also stars  Don Cheadle as Jim Rhodes, Gwyneth Paltrow as Pepper Potts, , Samuel L. Jackson as Nick Fury, Sam Rockwell as Justin Hammer.
The film is set to hit U.S. theaters on May 7, 2010.