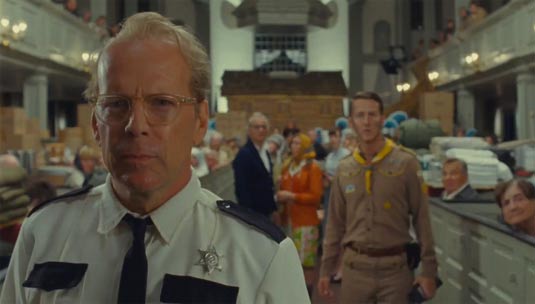 We have the first trailer for Wes Anderson's upcoming Moonrise Kingdom movie.
Beside the fact that Anderson is in charge for the whole thing and that the movie has quite interesting cast on board, I still have no idea what's so special about this project.
This trailer looks quite… I don't know – boring maybe, but before my haters show up – I will just add that I like Anderson's style and that I'll give Moonrise Kingdom a try after all!
Starring Bruce Willis, Edward Norton, Bill Murray, Frances McDormand, Tilda Swinton, Jason Schwartzman, Jared Gilman and Kara Hayward, the movie is set on an island off the coast of New England in the summer of 1965, and tells the story of two twelve-year-olds who fall in love, make a secret pact, and run away together into the wilderness.
And yes, if anyone asks – I definitely like Bruce Willis' new style, he should do the local sheriff thing more often.
Enjoy the trailer for the movie which is set to open on May 25th, 2012 and let us know what you think about it!
[youtube width="535" height="350"]http://www.youtube.com/watch?v=7N8wkVA4_8s[/yo[/youtube]