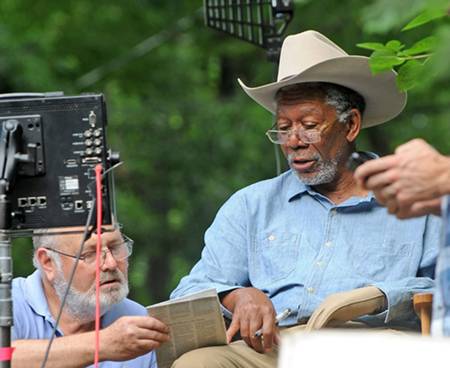 Veteran Morgan Freeman is set to star in Louis Leterrier's magician heist feature Now You See Me, isn't it exciting?
Multi-awarded actor with an authoritative voice and calm manner is known for his performances in Street Smart, Driving Miss Daisy,The Shawshank Redemption and Invictus, not to mention Million Dollar Baby, for which he won Academy Award for Best Supporting Actor.
Well, Inglourious Basterds star Melanie Laurent was recently cast as the female lead, and if Freeman confirms that he will join Mark Ruffalo, Amanda Seyfried and Jesse Eisenberg, it will be just great. Freeman is in talks to star as Thaddeus, a consultant to the FBI on their investigations into a group of bank-robbing magicians known as the Four Horsemen, a team of illusionists who pull bank heists during their stage performances. Eisenberg is reportedly attached to play the leader of the illusionist squad and Ruffalo will take on the role of the main FBI agent; Seyfried and Laurent are playing women on both sides of the law.
The script was penned by Boaz Yakin (The Punisher) and Edward Ricourt (Abraham's Daughter) and it looks much more promising than Leterrier's endeavors to remake Clash of the Titans.
No start date for shooting on Now You See Me has been announced just yet. Summit Entertainment will release Leterrier's magician heist thriller.
Freeman is still filming Christopher Nolan's The Dark Knight Rises, in which he reprises his role as Lucius Fox, but the actor was spotted recently in New York on the set of Rob Reiner's dramedy, Summer at Dog Dave's.
Check him out in Clint Eastwood's Invictus that tells the inspiring true story of how Nelson Mandela (Freeman) used the South African Rugby team headed up by Francois Pienaar (Damon) to unite his country.
[youtube]http://www.youtube.com/watch?v=AqKjVo-9qso[/youtube]
Invictus Trailer