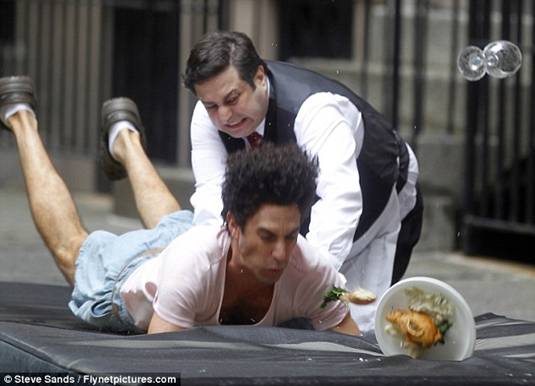 So now we've seen a teaser trailer, then a Super Bowl spot for Sasha Baron Cohen's fourth film, The Dictator, but this is the first trailer to reveal a huge plot twist.
Admiral General Aladeen, a deposed dictator from the fictional Middle Eastern country of the Republic of Wadiya comes to 'Amerrrica' where he loses his beard, and becomes an ordinary citizen lost in New York with no money. Then, sweet-natured girl played by Anna Faris sees him dethroned and debearded and get water-cannoned when he tries to climb the wall of the UN to deliver a speech and she comes to his rescue.
Larry Charles, director of Borat and Bruno, is back in the helming saddle for the The Dictator, to help and support the effort to tell the heroic story of a dictator who risked his life to ensure that democracy would never come to the country he so lovingly oppressed.
The new funny/offense feature from Baron Cohen, which opens in theaters on May 16th, 2012, also stars Ben Kingsley, Megan Fox, John C. Reilly and J.B. Smoove.
Check it out below and for more, visit: RepublicofWadiya.com.
[youtube]http://www.youtube.com/watch?v=3C3KzALgzIc[/youtube]