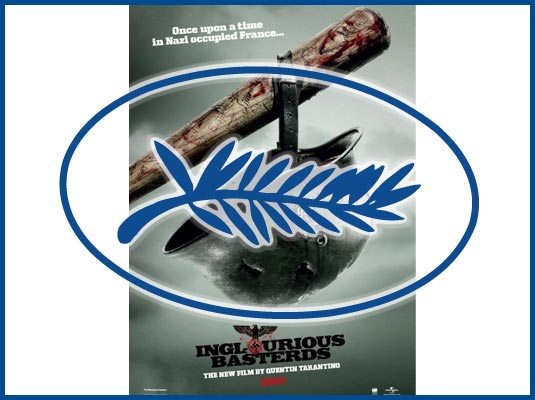 During the last year's Cannes Film Festival, Quentin Tarantino promised to return this year at Cannes with his new film.
"The next movie I'm doing is my World War II movie. I just finished up the first draft and if all goes well, I will be here, in Cannes, in 2009 with "Inglorious Bastards", Tarantino said then.
We can say now that he kept promising because it's been confirmed that "Inglourious Basterds" will have its world premiere during the prestigious French film festival. "Inglorious Bastards" will be "in competition" at Cannes Film Festival 2009.
Tarantino previously won the Palme d'Or prize at Cannes for "Pulp Fiction" in 1994. He hasn't won any awards since then. However, a decade later he has been invited back as a member of the jury. Tarantino's "Kill Bill" was not in competition that year, but it did unspool on the fest's final night in its original 3-hour-plus version.
The full 62nd Cannes Film Festival line-up will be unveiled on April 23, with the festival running from May 13- 24, 2009.
Universal and The Weinstein Company will debut "Inglourious Basterds" in theaters officially in the US on August 21st, 2009.
Lieutenant Aldo Raine (Brad Pitt) organizes a group of Jewish soldiers to engage in targeted acts of retribution. Known to their enemy as "The Basterds," Raine's squad joins German actress and undercover agent Bridget Von Hammersmark (Diane Kruger) on a mission to take down the leaders of The Third Reich.
The movie also stars Melanie Laurent, Christoph Waltz, Daniel Bruhl, Eli Roth, Samm Levine, B.J. Novak, Til Schweiger, Gedeon Burkhard, Paul Rust, Michael Bacall, Omar Doom, Sylvester Groth, Julie Dreyfus, Jacky Ido, August Diehl, Martin Wuttke, Richard Sammel, Christian Berkel, Sonke Mohring, Michael Fassbender, Mike Myers, Rod Taylor, Denis Menochet, Cloris Leachman, Maggie Cheung and Samuel L. Jackson.