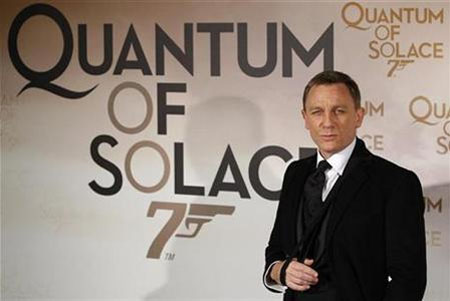 "Quantum of Solace," 22nd James Bond movie, debuted in Britain broke a UK record for an opening day taking $8 million distributor Columbia Pictures said. makes "Quantum Of Solace" the biggest Friday opening of all time in the UK.
Previous Friday best was "Harry Potter and the Goblet of Fire," earning $6.5 million in 2005. Bond 21st – "Casino Royale" did $4.7 million on its opening Friday (2006). "Casino Royale," was a huge box office success with a global haul of $594 million.
"Quantum of Solace" from director Marc Forster is scheduled to appear in US theaters on November 14th 2008.
Take a look at photos of the film's stars from the event – Daniel Craig, Judi Dench, Giancarlo Giannini and Bond girls Gemma Arterton and Olga Kurylenko.
Quantum Of Solace Premiere Photos