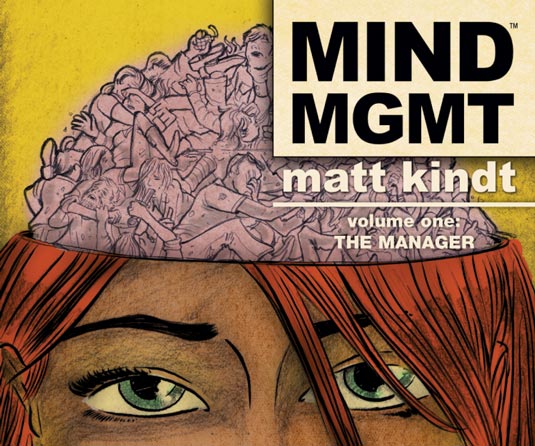 As of late, fanboys and fangirls certainly have much reasons to rejoice. With the franchising boom, and the transformation of Comic-Con from geek's den to non-ironic cultural binder, they are enjoying an unprecedented day in the spotlight, and even have their own 'fanbase' (you know, hipsters). Who'd say that, some ten or more years ago, huh?
While major studios have milked the mass-appeal comics for all it is worth, yesterday's announcement that Twentieth Century Fox has landed the film rights to Matt Kindt's Mind MGMT suggests a move deeper into the source material of the comic underworld.
Kindt's small but much-admired series follows a young female journalist who stumbles upon a covert government organization run by agents with psychic abilities. The protagonist is rescued by an ex-agent who facilitates her investigation into Mind Management's inner workings (hint: apparent love interest which equals 'profitable' in real world, a la Emma Stone and Andrew Garfield). After the critically-divisive Prometheus, producer Ridley Scott, who will be acting under his Fox-affiliated Scott Free banner alongside Mike Richardson and Keith Goldberg, will be looking once again to ingratiate himself with this demographic.
If the comic-turned-film pattern from 2012 is anything to go by, Fox is backing a decent horse to weather the lumbering economic storm. Marvel's The Avengers took in a staggering $1.5bn worldwide to become the third-highest grossing picture of all time after Avatar and Titanic, while The Dark Knight and its follow-up The Dark Knight Rises both scored in the top twenty. An acquisition from renowned comic publisher Dark Horse, Scott's adaptation of the shrewdly-selected Mind MGMT may prove to be just that – if he keeps the script within the grasp of a single writer.
Source: THR