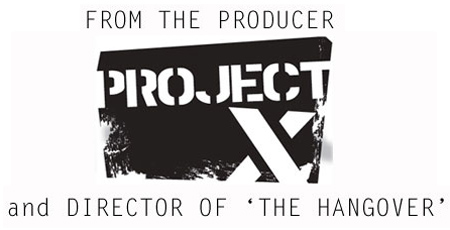 The Hangover director Todd Phillips will pair with producer Joel Silver for a project so shrouded in mystery that is known only by its working title Project X.
So, what we actually now at this moment is, that both of them are on board to help put together a low budget R-rated comedy for the feature directorial debut of Nima Nourizadeh.
And if this name doesn't sound familiar to you, well, let us tell you that Nourizadeh directed only videos and commercials.
We don't have some big info about the whole thing yet – high concept story being kept under wraps – but the film is described as a party movie.
Todd Phillips said to Collider that the term "party movie" is very vague and that they're just hoping to make a film that is "a new and interesting approach" to storytelling in the comedy genre.
This sounds like it could be pretty interesting project.
What should make it more realistic, intimate and genuine is their desire to use only unknown actors for the film combined with this shooting style. Phillips and WB want to open it up to people that normally never have a chance to get in a movie.
So, as you see, the casting process is also kind of mystery, but we do know that Phillips and Silver launched a website searching for unknowns to be cast in the movie – ProjectXOpenCall
The only requirements were that submitters must be U.S. residents, be able to pass for 18 years old, and submit a video tape telling their most embarrassing story, craziest party story, the riskiest or most daring thing they've ever done, and demonstrate an impressive dance.
Phillips also told: "the goal is to try and film the movie this July/August but it's "contingent on getting an interesting cast together." He said if they can't get a cast they're happy with, they'll put the movie on hold until they do.
Of course, there is a script, so the whole Project X is not going to be created using the open casting call submissions (if you had something like that in your mind).
Project X will begin production in June in LA and Phillips reportedly intends to be produce in hands-on style before going to work on a sequel to The Hangover.
We have no doubt that with this interesting team, we'll soon have a chance to watch a good movie. Stay tuned!