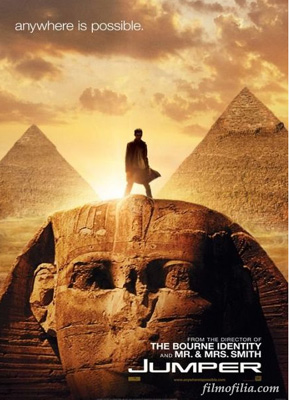 '
Jumper
' is new movie from the director of the
Bourne identity
and
Mr. and Mrs. Smith
,
Doug Liman
, with
Samuel L. Jackson, Hayden Christensen, Rachel Bilson and Diane Lane
. 'Jumper' will hit theaters on February 14
th
, 2008. A genetic anomaly allows a young man to teleport himself anywhere. He discovers this gift has existed for centuries and finds himself in a war that has been raging for thousands of years between 'Jumpers' and those who have sworn to kill them. Davey (Hayden Christensen) lives alone with his father. But the truth is, it isn't much of a home. When things get so bad that Davey decides to run away, his big question is, Where? And how will he live? The magical answer is anywhere Davey wants! Davey discovers he has the power to jump from one place to another. And as Davey explores his new power he learns that the world is literally his for the taking. But there are consequences too, as Davey will learn.
Watch 'Jumper' trailer after the jump
His mother who left him and his abusive father years before, is reunited with Davey only to be killed. As Davey resists the pull from the CIA he must also battle those who took someone very dear to him. His girlfriend Millie (Rachel Bilson) tries to help him but not even her support can get him out of the mess he has gotten himself into. Davey seeks the ultimate revenge, only to learn that revenge may not be what he really desires.
[youtube]http://www.youtube.com/watch?v=2PQi5ueqig4[/youtube]
'Jumper' trailer