Movie News
'National Treasure 2' trailers has many scenes that isn't in the movie at all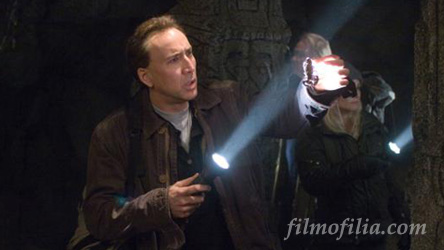 One of the most compelling sequences in the trailer shows Nicolas Cage at the Lincoln Memorial — three or four shots that make you think that this movie's grand historical conspiracy somehow involves that famous monument. It doesn't, and none of those shots appear in the movie.
In one of the trailers, there are shots of the pyramids and other Egyptian landmarks. None of the movie takes place in Egypt.
Editing happens. Especially with movies in trouble or movies where early test audiences are confused. And I'll bet there was a lot of that on this movie. Trailers are often edited rather radically — scenes rearranged, dialogue snippets taken out of context, and so on. And usually, nobody minds.
Rearranging scenes in the trailer is one thing. But what about this business of putting stuff in the trailer – a *lot* of stuff – that isn't in the movie at all? If they can get away with "National Treasure"-style misrepresentation, what's to stop other moviemakers from putting special effects, witty lines, exotic locales and hot-looking actors into *their* trailers, just to get us to go to a movie that doesn't have any of those things?
Read more nytimes.com