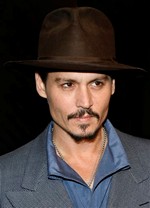 Johnny Depp
pillaged the most money for theaters in 2007, in a survey of movie exhibitors. Depp, star of 'Pirates of the Caribbean: At World's End' and 'Sweeney Todd: The Demon Barber of Fleet Street', has nabbed the No.1 spot for the second year in a row. The survey, conducted every year since 1932, asks movie exhibitors to vote for the 10 stars who generated the most box-office revenue for their theaters.
Will Smith
, now starring in 'I Am Legend' placed second on the list, followed by
George Clooney, Matt Damon, Denzel Washington, Russell Crowe, Tom Cruise, Nicolas Cage, Will Ferrell and Tom Hanks.
Meanwhile, this was the first time in 24 years that exhibitors haven't included a woman in the top tier of moneymakers, despite the success of Katherine Heigl and Keira Knightley.