BAFTA Awards
2012 BAFTA Awards Winners; The Artist (Almost) Takes It All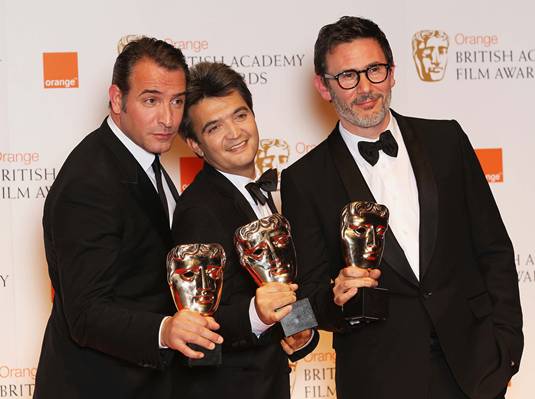 The BAFTAs, the British version of the Oscars, were handed out on Sunday giving us a possible indicator of those who could take home Academy Awards statuettes in just a couple of weeks. The black-and-white film
The Artist
was not only won Best Film at the BAFTAs, but took home awards for director, screenplay, cinematography, music and costume design by voters from the British Academy of Film and Television Arts.
Jean Dujardin
also won the Leading Actor. The Artist's Berenice Bejo couldn't defeat
Meryl Streep
, however, who won the best actress award for her performance as Margaret Thatcher in
The Iron Lady
(and lost a shoe as she went to accept her award).
Martin Scorsese
's
Hugo
won awards for its sound and production design as well as he was also honored with Academy Fellowship, an honorary award given for 'outstanding and exceptional contribution to film.' John le Carre adaptation
Tinker Tailor Soldier Spy
won an award for its screenplay and for Outstanding British Film too, an award that usually goes to a film that is nominated for, but does not win the Best Film award with the exception of last year's winner The King's Speech. Check out the complete list of winners: •
Best Film
: The Artist •
Leading Actor
: Jean Dujardin, The Artist •
Leading Actress
: Meryl Streep, The Iron Lady •
Supporting Actor
: Christopher Plummer, Beginners •
Supporting Actress
: Octavia Spencer, The Help •
Director
: The Artist, Michel Hazanavicius •
Original Screenplay
: The Artist, Michel Hazanavicius •
Adapted Screenplay
: Tinker Taylor Soldier Spy, Bridget O' Connor & Peter Straughan •
Film Not in the English Language
: The Skin I Live In •
Animated Film
: Rango •
Outstanding British Film
: Tinker Tailor Soldier Spy •
Outstanding Debut by a British Writer, Director or Producer
: Tyrannosaur, Paddy Considine (Director), Diarmid Scrimshaw (Producer) •
Music
: The Artist •
Cinematography
: The Artist •
Editing
: Senna •
Production Design
: Hugo •
Costume Design
: The Artist •
Sound
: Hugo •
Special Visual Effects
: Harry Potter and the Deathly Hallows-Part 2 •
Makeup & Hair
: The Iron Lady •
Short Film
: Pitch Black Heist •
The Orange Rising Star Award
: Adam Deacon •
Academy Fellowship
: Martin Scorsese •
Short Animation
:
A Morning Stroll
•
Documentary
: Senna [youtube]http://www.youtube.com/watch?v=R55HtvIIZB4[/youtube]
The Artist Awarded the BAFTA for Best Film
[youtube]http://www.youtube.com/watch?v=3s2D6gs1Ui0[/youtube]
Meryl Streep Wins a BAFTA but Almost Loses a Shoe