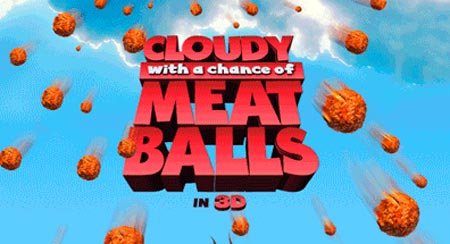 A brand new 3-D poster for the upcoming 3-D animated comedy "
Cloudy With a Chance of Meatballs
," voiced by
Anna Faris, Bill Hader, Bruce Campbell, James Caan, Mr T, Tracy Morgan
and
Andy Samberg
has been released. Movie studios are always looking to promote their films in new and exciting ways, with the goal of connecting with moviegoers and expanding the movie experience beyond the theater. The advent of cutting edge 3-D movies has made this task more essential than ever — and Virtual Images' 3-D movie poster displays offer the ideal solution for studios.
Columbia Pictures
' and
Sony Pictures Animation
's "Cloudy with a Chance of Meatballs" is inspired by the children's book of the same name. The movie, based on a town where food falls from the sky like rain, will be released in 3-D in theaters nationwide.
"When studios want to make an impact and draw viewers to the theater, they rely on our 3-D and dimensional graphics to pack a punch and resonate with moviegoers," said Dave Corey, general manager of Virtual Images. "Our unique and innovative technologies can be used to break through the clutter of competing movie titles and create a 3-D experience for the consumer outside of the theater."
To promote the movie, which opens nationwide on September 18, 2009, the studios worked with Virtual Images — The 3-D Company to produce poster-sized movie theater displays that utilize a unique, high-tech 3-D technology that produces images of remarkable depth and clarity.
Cloudy with a Chance of Meatballs 3-D poster
LensCrafters, NCM.com and Sony Pictures Animation invite you to enter the "Cloudy with a Chance of Meatballs" sweepstakes for their chance to win fantastic prizes, including a Grand Prize trip for one fan and up to three guests to see the World Premiere of the film.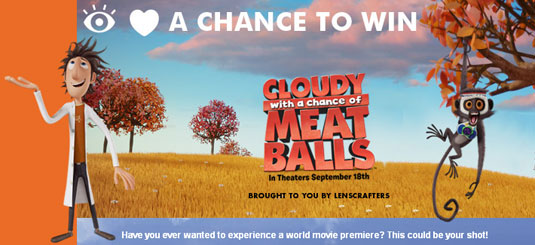 Others prizes include LensCrafters gift certificates, the DVD version of Cloudy with a Chance of Meatballs, and movie tickets. For complete details, visit: http://www.ncm.com/Lenscrafters/Sweepstakes.