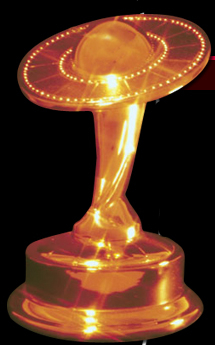 The Academy of Science Fiction, Fantasy & Horror Films has announced the nominations for their 35th Annual Saturn Awards.
Leading the charge was Christopher Nolan's super-hero crime thriller "The Dark Knight" with 11 nominations. "The Curious Case of Benjamin Button" and "Iron Man" followed closely behind with 9 and 8 nominations, respectively. While "Valkyrie" spied 7 nominations, "Indiana Jones and the Kingdom of the Crystal Skull" and "Changeling" received 6 nominations each.
In a showdown worthy of a company crossover, Batman and Iron Man will face off against each other in seven categories, including "Best Actor" (Christian Bale vs. Robert Downey Jr.), "Best Actress" (Maggie Gyllenhaal vs. Gwyneth Paltrow), "Best Supporting Actor" (Heath Ledger vs. Jeff Bridges), "Best Director" (Christopher Nolan vs. Jon Favreau), "Best Writing," "Best Music" and "Best Special Effects."
Adding to the strong comic book showing at this year's awards are nods for "Hellboy II: The Golden Army" (up for two awards, including "Best Horror Film") and "Wanted" (nominated for "Best Fantasy Film").
The 35th Annual Saturn Awards will be announced on June 25, 2009
Here are the film nominees:
Best Science Fiction Film
The Day the Earth Stood Still
Eagle Eye
The Incredible Hulk
Indiana Jones & the Kingdom of the Crystal Skull
Iron Man
Jumper
Best Fantasy Film
The Chronicles of Narnia: Prince Caspian
The Curious Case of Benjamin Button
Hancock
The Spiderwick Chronicles
Twilight
Wanted
Best Horror Film
The Happening
Hellboy II: The Golden Army
The Mummy: Tomb of the Dragon Emperor
Quarantine
Splinter
The Strangers
Best Action/Adventure/Thriller Film
Changeling
The Dark Knight
Gran Torino
Quantum of Solace
Traitor
Valkyrie
Best Actor
Christian Bale – The Dark Knight
Tom Cruise – Valkyrie
Robert Downey, Jr. – Iron Man
Harrison Ford – Indiana Jones & Kingdom of the Crystal Skull
Brad Pitt – The Curious Case of Benjamin Button
Will Smith – Hancock
Best Actress
Cate Blanchett – The Curious Case of Benjamin Button
Maggie Gyllenhaal – The Dark Knight
Angelina Jolie – Changeling
Julianne Moore – Blindness
Emily Mortimer – Transsiberian
Gwyneth Paltrow – Iron Man
Best Supporting Actor
Jeff Bridges – Iron Man
Aaron Eckhart – The Dark Knight
Woody Harrelson – Transsiberian
Shia LaBeouf – Indiana Jones & Kingdom of the Crystal Skull
Heath Ledger – The Dark Knight
Bill Nighy – Valkyrie
Best Supporting Actress
Joan Allen – Death Race
Judi Dench – Quantum of Solace
Olga Kurylenko – Quantum of Solace
Tilda Swinton – The Curious Case of Benjamin Button
Charlize Theron – Hancock
Carice Van Houten – Valkyrie
Best Performance by a Younger Actor
Freddie Highmore – The Spiderwick Chronicles
Lina Leandersson – Let the Right One In
Dev Patel – Slumdog Millionaire
Jaden Christopher Smith – The Day the Earth Stood Still
Catinca Untaru – The Fall
Brandon Walters – Australia
Best Director
Clint Eastwood – Changeling
Jon Favreau – Iron Man
David Fincher – The Curious Case of Benjamin Button
Christopher Nolan – The Dark Knight
Bryan Singer – Valkyrie
Steven Spielberg – Indiana Jones & Kingdom of the Crystal Skul
Andrew Stanton – Wall-E
Best Writing
Mark Fergus, Hawk Ostby, Art Marcum, Matt Holloway – Iron Man
David Koepp, John Kamps – Ghost Town
John Ajvide Lindqvist – Let the Right One In
Jonathan Nolan, Christopher Nolan – The Dark Knight
Eric Roth – The Curious Case of Benjamin Button
J. Michael Straczynski – Changeling