We have a peek at some of Entertainment Weekly's photos for their newest issue that will feature a preview of J.J. Abrams' Star Trek Into Darkness.
Five new images feature looks at Chris Pine and Zachary Quinto as Captain Kirk and Spock; Benedict Cumberbatch as the film's villain; John Harrison; Zoe Saldana as Uhura and Abrams on set with co-writer Alex Kurtzman.
The photos give us even more of the movie we haven't yet seen in stills or trailers.
The sequel to the reboot of Gene Roddenberry's original science fiction series, co-written by Roberto Orci, Kurtzman and Damon Lindelof, Paramount is bringing to IMAX 3D on May 15th, 2013 and everywhere else on May 15th, 2013.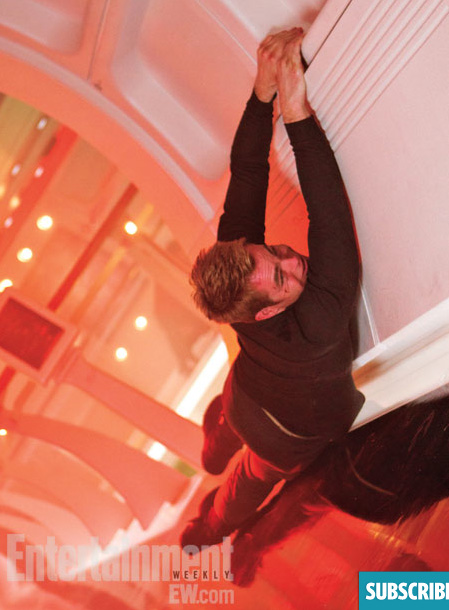 In Summer 2013, pioneering director J.J. Abrams will deliver an explosive action thriller that takes Star Trek Into Darkness. When the crew of the Enterprise is called back home, they find an unstoppable force of terror from within their own organization has detonated the fleet and everything it stands for, leaving our world in a state of crisis. With a personal score to settle, Captain Kirk leads a manhunt to a war-zone world to capture a one man weapon of mass destruction. As our heroes are propelled into an epic chess game of life and death, love will be challenged, friendships will be torn apart, and sacrifices must be made for the only family Kirk has left: his crew.
Source: EW