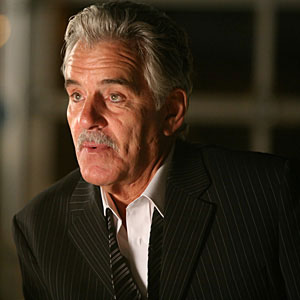 Actor Dennis Farina is apologizing for his arrest at Los Angeles International Airport. A loaded gun was found in his carry on luggage. The one-time "Law and Order" star, who's in the new Ashton Kutcher–Cameron Diaz comedy "What Happens in Vegas," says in a statement, his own "stupidity" put him in "this embarrassing situation." He says he forgot the .22 caliber handgun was in his luggage. Farina is free on bail, facing a felony charge because the weapon wasn't registered. He's a former Chicago police officer.
LAX police run into this problem–of passengers forgetting they have guns in their carry-on luggage–regularly, Holcomb said. Most of the roughly 10 incidents a month involve police officers traveling as civilians.
"People don't get it," Holcomb said. "When you go to an airport, the only people that can carry a gun are federal agents."
That's not to say high-profile travelers haven't tried to board with weapons.
Rapper Snoop Dogg pleaded guilty in 2007 after screeners at John Wayne Airport in Orange County found a collapsible baton in his luggage. Although the rapper said it was a prop for a music video, authorities deemed it otherwise.
David Huckabee, son of former presidential candidate Mike Huckabee, received a one-year suspended sentence last year after he was caught at a Little Rock, Ark. airport with a loaded Glock pistol in his bag.
"It was a silly mistake," he said at the time.
And the lead singer of the rock band Incubus, Brandon Boyd, was arrested in 2004 for carrying a switchblade in his bag while trying to board a plane at New York's La Guardia International Airport.