Movie News
Al Pacino and Katie Holmes Join Adam Sandler in Jack and Jill
Yes, we're all quite confused with this cast, but it's true.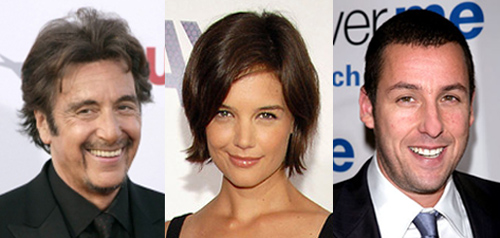 Legendary
Al Pacino
and
Katie Holmes
are in talks to join the comedy titled
Jack and Jill
, with
Adam Sandler
already on board, not just like one (or, you better count that as two!) of the characters, but as a producer as well. You get it? Yeah, we thought so… Here's the explanation: Jack and Jill centers on a lady named Jill (Sandler), who turns up at her twin brother Jack's (Sandler) Thanksgiving dinner and then won't leave. That means Sandler will play both Jack and Jill, and on the other hand, Holmes would play his wife, while Pacino would star as himself. The script has been penned by
Steve Koren, Robert Smigel
and
Ben Zook
, and
Dennis Dugan
will be in charge for directing the comedy. Columbia Pictures will finance and distribute, and the movie will be released sometime in 2011 We must agree that it's nice to hear Holmes is back, even with a project like this, because, let us remind you that Jack and Jill would be her first major studio picture since 2005's
Batman Begins
and her first film role since appearing in the 2008 low-budget
Mad Money
. In the meanwhile, she is shooting History's miniseries
The Kennedys
, playing Jacqueline Kennedy Onassis.