Movie Photos
Alden Ehrenreich and Alice Englert in BEAUTIFUL CREATURES First Look, New Release Date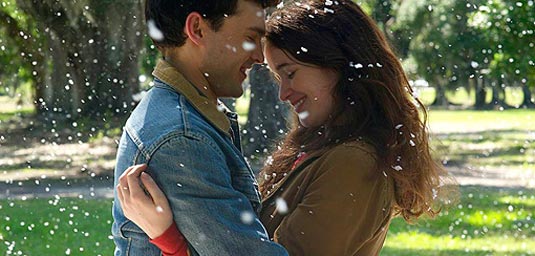 It's Beautiful Creatures time, guys! We finally have the first official image from the upcoming Richard LaGravenese's movie and as usual – we're happy to share with you!
As you already see, it's actually the first look at Alden Ehrenreich and Alice Englert, or if you prefer – Ethan and Lena, two titular characters from the whole thing! Looks romantic enough?
Beautiful Creatures is based on the novel written by Kami Garcia and Margaret Stohl, which follows two star-crossed teenage lovers.
We have a local boy named Ethan Wate, played by Ehrenreich, and a mysterious new girl Lena Duchannes, played by Englert, who uncover dark secrets about their families, their history and their town.
This first image shows nothing mysterious, but hey, that's what I call a teenage love…
The rest of the cast looks quite good because we have Jeremy Irons, Viola Davis, Emma Thompson, Emmy Rossum, Thomas Mann and Kyle Gallner all on board as well.
And, at the end of this report, let me also inform you that LaGravenese's Beautiful Creatures now has a new release date – it is scheduled to hit the theaters on February 15th, 2013.
Let us know what you think about the whole thing, and stay tuned for more!