Movie News
Alice Eve as Emma Frost in X-Men: First Class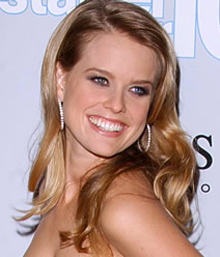 Alice Eve, the British actress is in negotiations to portray Emma Frost in Matthew Vaughn – directed X-Men: First Class.
There was a rumor, earlier this month, that Rosamund Pike was in talks for this icy superhero role but later it was revealed that Pike was actually in talks to play Moira McTaggert, the assistant to Professor X, who will be played by James McAvoy.
If Eve takes the role, she would join a cast that also includes Michael Fassbender as a young Magneto and Benjamin Walker as a young Henry McCoy, a.k.a. The Beast.
She first appeared on the scene in Starter for 10 alongside James McAvoy, so if she signs on, X-Men: First Class will reunite her with McAvoy, who has already been cast as Charles Xavier who ultimately became the recognized leader of the mutant group X-Men as Professor X!
Here's the X-men: First Class official synopsis: "The movie, following the classic Marvel mythology, charts the epic beginning of the X-Men saga.
Before Charles Xavier and Erik Lensherr took the names Professor X and Magneto, they were two young men discovering their powers for the first time.
Before they were archenemies, they were closest of friends, working together, with other Mutants (some familiar, some new), to stop the greatest threat the world has ever known. In the process, a rift between them opened, which began the eternal war between Magneto's Brotherhood and Professor X's X-Men."
The film directed by Matthew Vaughn that it's based on the script which was written by Josh Schwartz and Jamie Moss is set to start shooting this summer and comes to theaters June 3rd, 2011.
With every new information about X Men: First Class we'll be back. Stay tuned for more updates!