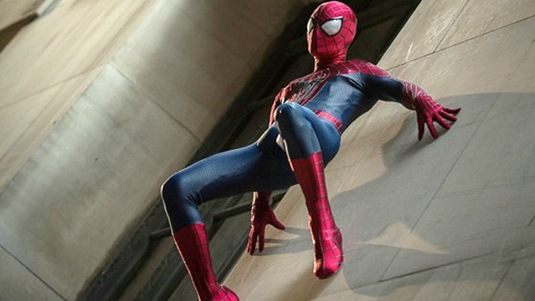 Andrew Garfield is still in shape, Paul Giamatti is still angry – that's exactly what we have for you today. Nine more pics from The Amazing Spider-Man 2 have arrived to remind you that (just as director Marc Webb previously explained) there are elements of the story that may raise your eyebrows and that may be a fun thing to play with in the future. Head inside to take a look…
For those who may have missed our previous reports, here's Electro promo video, as well as the very first look at Rhino, but we also recommend you to check out over 50 set pics from the movie and the official logo.
We will once again remind you that a sequel to the 2012 The Amazing Spider-Man is set to hit theaters on May 2nd, 2014, and beside Garfield and Giamatti, also stars Emma Stone, Jamie Foxx, Dane DeHaan, Colm Feore, Sally Field, Chris Cooper, B.J. Novak and Sarah Gadon.
Webb directs the whole thing from a script written by Alex Kurtzman, Roberto Orci, Jeff Pinkner and James Vanderbilt, which revolves around Peter Parker who continues to adjust to his crime fighting life as Spider-Man and relationship with Gwen Stacy while dealing with new enemies, the return of Harry Osborn, and discovering more about his past.
In other words:
For Peter Parker, life is busy – between taking out the bad guys as Spider-Man and spending time with the person he loves, Gwen, high school graduation can't come quickly enough. Peter hasn't forgotten about the promise he made to Gwen's father to protect her by staying away – but that's a promise he just can't keep. Things will change for Peter when a new villain, Electro, emerges, an old friend, Harry Osborn, returns, and Peter uncovers new clues about his past.
We'll keep an eye on Spidey, make sure you stay tuned for more updates!