Movie Photos
Another Photo from JACK RYAN Featuring Chris Pine and Kevin Costner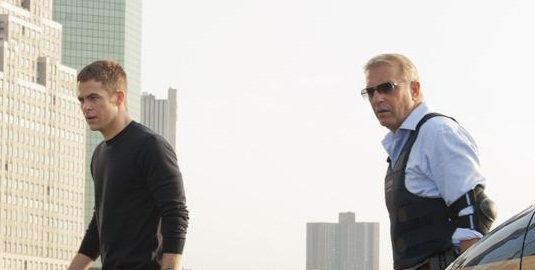 After a first look photo of Chris Pine on a Ducatti bike in motion as the title character Jack Ryan, new photo has been released from the set so geeks get the first peek at Kevin Costner's role in the film.
As we learned the first in a planned trilogy that will explore the world of the CIA, the action-thriller Jack Ryan from Paramount Pictures and Skydance Productions has filmed on location in downtown Manhattan.
Pine's cruising the downtown streets has been followed by a look at Pine and Costner as CIA field agent William Harper exiting a helicopter on top of a building in the city. Actor and Thor director Kenneth Branagh signed on for double duty as the film's helmer and villain, while Keira Knightley will play the female lead in the Tom Clancy character's on-screen adaptation as Ryan's wife.
Jack Ryan's first return to the big screen in more than a decade is scheduled for a Christmas day, 2013.
Do you share my opinion that knowing Ryan's luck with helicopters, perhaps he should stay away?
Well, however, here's the second official photo.
Source: ComingSoon