Movie News
"Babylon A.D." Director Mathieu Kassovitz Mad at FOX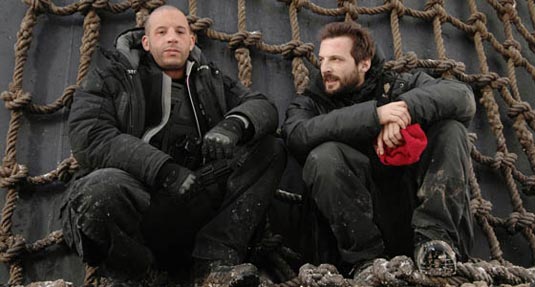 The
Vin Diesel
sci-fi/action flick "
Babylon A.D.
" hits theaters on August 29 and of all people that should be happy about it, the director, isn't.
Matieu Kassovitz
(Gothika) clearly didn't have a very good time making the film. As he candidly tells
AMCTV
:
"I'm very unhappy with the film. I never had a chance to do one scene the way it was written or the way I wanted it to be. The script wasn't respected. Bad producers, bad partners, it was a terrible experience.
Kassovitz says Fox reps swarmed on the production after weather related setbacks and other budgetary concerns began to appear during production.
"Fox was sending lawyers who were only looking at all the commas and the dots," he says. "They made everything difficult from A to Z." Kassovitz's breaking point was when the suits commandeered the editing room and pared the film down to a "confusing 93 minutes" from his original 108 minute cut. Star Vin Diesel chimed in on this count, asking "Am I even in the movie any more, or am I on the cutting room floor?"
Kassovitz continued,
"The movie is supposed to teach us that the education of our children will mean the future of our planet. All the action scenes had a goal: They were supposed to be driven by either a metaphysical point of view or experience for the characters… instead parts of the movie are like a bad episode of 24." Not exactly glowing praise for his own work, but I've watched every season of 24, and even a bad episode (of which there have been many) is still better than most of what Hollywood churns out to theaters. After remembering he was there to promote the film and not take a big fat dump on it, Kassovitz added "I like the energy of it and I got some scenes I'm happy with," he said right before dropping his pants and squeezing out some more criticisms. "But I know what I had – I had something much better in my hands but I just wasn't allowed to work… I don't see how people who went through all these amazing blockbusters like The Dark Knight and Iron Man this summer will take it."
In the film Diesel stars as a mercenary hired to deliver a package from the ravages of post-apocalyptic Eastern Europe to a destination in the teeming megalopolis of New York City. The "package" is a mysterious young woman with a secret. It is based on the French novel "Babylon Babies" by Maurice Georges Dantec and Kassovitz says of the source material, "The author was very much into geopolitics and how the world is going to evolve. He saw that as wars evolve, it won't be just about territories any more, but money-driven politics. As a director it's something that's very attractive to do." Kassovitz compares it to the current troubles in Georgia, but it appears any message is now gone. Kassovitz also directed the stunning La Haine as well as the gory French serial killer thriller Crimson Rivers, and he's acted in films as diverse as Munich, Birthday Girl, and the beautiful and perfect Amelie.