Movie News
'Bad Science In Movies' Checklist Chart Along With Apocalyptic Blockbuster Absurd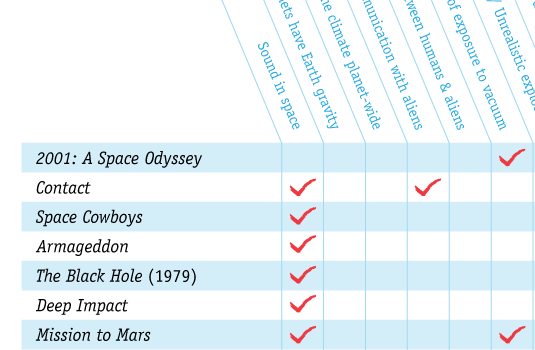 Hi! I'd like the chart from io9 completewith the article in the London Sunday Times on January 2, 2011. Both surveys turned up interesting details about breaking rules. These facts led us to the conclusion that science and film do not always share equal values.
The io9 report card consists of 11 categories of mistakes or different rules that were broken, such as "sound in space" and "moving in slow-motion in zero gravity", that Space Cowboys (2000) broke, for example. The Right Stuff (1983) shares first place in the list with Apollo 13 (1995) – you really can get three men back from the moon on the power it takes to run a coffee machine!
On the other hand article in Sunday Times praise Gattaka (1997) to be the most realistic film. The plot is a genetically inferior man who assumes the identity of a superior one to pursue his dream of space travel. Science fiction films such as Ridley Scott's Blade Runner (1982), which persuasively describes a futuristic Los Angeles, now only eight years away, were also praised "good" from the same source info.
Those that came in for the worst criticism included Michael Bay's Armageddon (1998) , in which an asteroid the size of Texas is broken up by oil workers using drills and a nuclear bomb, and Roger Spottiswoode's The 6th Day, in which the star is cloned in a few hours.
However, 2012 (2009) remains an "exceptional and extraordinary case", stated in "To Absurdity and Beyond ". The Star Wars films and seminal sci-fi underdog story The Last Starfighter (1984) and Star Wars are both the worst offender for bad "science" from the point of view of the io9 chart designer.
Because there's so much of it, Star Trek was left out. You can find places where it violates almost all of these rules. Despite of all the mistakes both series and movie get popularity and awards.