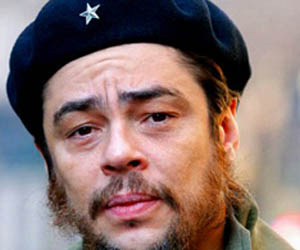 A pair of films by Steven Soderbergh about the life of Argentinian revolutionary Che Guevara is likely to prove an early favourite to win the Palme d'Or at next month's Cannes film festival.
Amid a line-up notably light on British filmmakers and actors, the Soderbergh diptych stars Benicio del Toro as Ernesto "Che" Guevara de la Serna.
Each of the two films will focus on a different episode in Che's life:
The Argentine dramatises the struggle of Che and Fidel Castro to topple Cuba's Batista regime in 1956, and The Guerrilla will chart the episode when, eight years later, Che travelled to New York to address the United Nations.