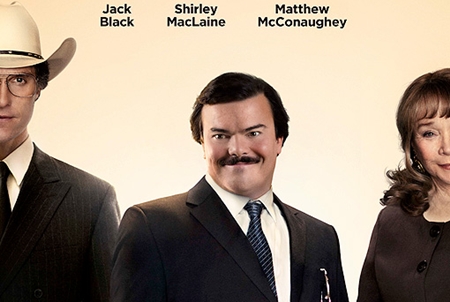 A low-budget dark comedy, Bernie starring Jack Black, Matthew McConaughey and Shirley MacLaine, directed by Richard Linklater, captures all the hilarity and weirdness of small-town Texas life. Titular Bernie made friends with wealthy 81-year-old widow Marjorie Nugent, but then killed her, but it took months before anyone noticed it. Jack Black plays Bernie, MacLaine plays Mrs. Nugent, and McConaughey plays the town's DA, Danny Buck Davidson. All jokes aside, the script was based on a 1998 Texas Monthly article about Tiede, and Linklater, who attended Tiede's trial, spent years researching it. The movie reteams Linklater with both Black and McConaughey – the first one starred in Linklater's top-grossing film, 2003s The School of Rock, and the second one appeared in his most influential one, 1993s Dazed and Confused. The movie is also a sharp-minded portrait of East Texas provincialism describing Linklater's childhood in the town of Huntsville, with a mixture of rejoicing and wariness:
I couldn't have made this early in my filmmaking life. Even now, I had to back in very carefully.
Bernie will premiere at the SXSW Film festival on March 14th, 2012 before its April 27th release.