Movie News
Better Look At Javier Bardem's Silva In New SKYFALL Image!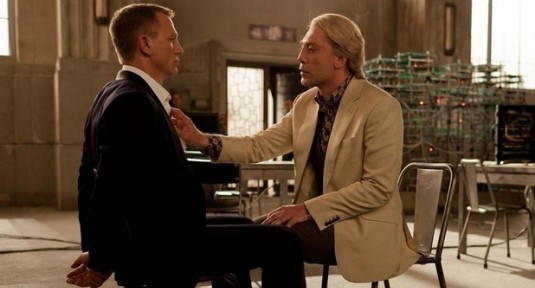 Raoul Silva is one bad guy. Javier Bardem's character from the upcoming Skyfall movie definitely has our full attention, not just because he has that awful blond thing called hair (just a guess) on his head, but because – we all love villains, right? Ok then, here's a better look at Silva and Bond, enjoy it! So, what do we know about Bardem's Silva so far? According to the director Sam Mendes, only a notable star, like Bardem, was able to play such a strong character:
Javier takes some risks. But he's an amazing actor and I think he gives you something you may consider to have been absent from Bond movies for a long time. Silva's up there with the greats for me, and that's why I worked very hard to persuade one of the great actors of the world to do it.
As you already know, Daniel Craig is once again on board as Bond 007, whos loyalty to M is tested as her past comes back to haunt her. As MI6 comes under attack, 007 must track down and destroy the threat, no matter how personal the cost. The rest of the cast includes Judi Dench, Naomie Harris, Berenice Marlohe, Ralph Fiennes, Albert Finney, Ben Whishaw, Helen McCrory and Ola Rapace. Skyfall opens on November 9th, 2012.