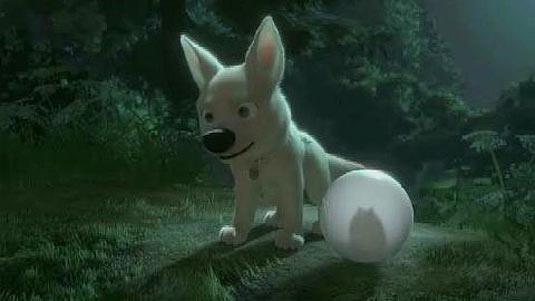 Walt Disney Pictures has revealed an extended clip from "
Bolt
" online. This is the first one footage that was shown at the
Comic-Con
this year. For super-dog Bolt (voiced by
John Travolta
), every day is filled with adventure, danger and intrigue, at least until the cameras stop rolling. When the canine star of a hit TV show is accidentally shipped from his Hollywood soundstage to New York City, he begins his biggest adventure yet, a cross-country journey through the real world. Armed only with the delusions that all his amazing feats and powers are real, and with the help of two unlikely traveling companions, a jaded, abandoned housecat named Mittens (voiced by
Susie Essman
), and TV-obsessed hamster in a plastic ball named Rhino, Bolt discovers he doesn't need superpowers to be a hero.
Miley Cyrus
brings her vocal talents to the role of Penny, Bolt's human co-star on the television series.
Chris Williams
will be making his directorial debut with "Bolt," but has previously written scripts for other Disney films like "Mulan" and "The Emperor's New Groove." His new movie is scheduled to hit theaters on November 26th.
Download BOLT Extended Clip
HD-quality 1080p [1920 px]
− 246,9 Mb
HD-quality 720p [1280 px]
− 166,2 Mb
HD-quality 1080p [852 px]
− 66,3Mb [flv]http://media.kino-govno.com/movies/b/bolt/trailers/bolt_rasshirennyjclip_640.flv[/flv]