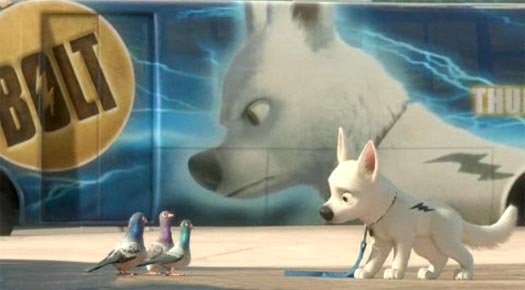 The trailer of "Bolt" has been unveiled in front of "Wall-E". And Disney has cleverly released it online too!
Bolt is an upcoming CG animated produced by Walt Disney Animation Studios. Much of the original graphic style of the film was inspired by the work of Edward Hopper. New technology in non-photorealistic rendering is used to give a special visual appearance to the movie. Furthermore a new patented technology has been specifically designed for "Bolt" in order to give a hand-painted look to the the 3D backgrounds.
The movie can boast the voice talents of John Travolta, as Bolt the dog, and of Miley Cyrus, as Penny, the young girl who owns Bolt.
Chris Williams will be making his directorial debut with "Bolt," but has previously written scripts for other Disney films like "Mulan" and "The Emperor's New Groove." The movie is scheduled to hit theaters on November 26th.