Movie News
Bond 23 Gets UK Release before Opening in US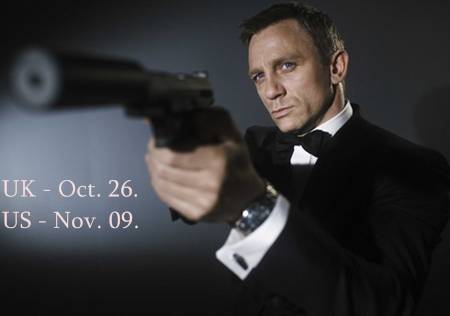 James Bond fans and geeks and freaks can finally start a countdown marking the remain days since Sony Pictures announced today the 23rd James Bond film release dates. A traditionally lush London premiere is scheduled for October 26 at the Odeon Leicester Square, before opening in the US theaters on November 9.
Daniel Craig returns for his second outing as the superspy in the most keenly anticipated next episode of the spy thriller action. After producers have come under heavy criticism for his casting in October 2005, now they are proven right.
Indeed he won high praise for his debut acting in 2006's stylish Casino Royale. And the two Bond films starring the British actor have achieved highest grossing for the franchise too. The thesp is currently contracted to star in two more 007 films.
At the moment, Craig is polishing off another long-awaited feature, the Hollywood version of The Girl With the Dragon Tattoo, set for release on Christmas Day.
Sam Mendes take over directorial duties from Marc Forster, who directed Quantum Of Solace in 2008. And while Ralph Fiennes and Javier Bardem have been rumored to be joining the cast, but as of yet it's still not official, Dame Judi Dench will indeed reprise her role as M.
Furthermore, photographer Roger Deakins confirmed on his fan forum last month that work on the project was in the first stages of development. He noticed:
Yes, I can say that I am doing the next 'Bond' film. It is early days and the film won't shoot until November.'
The latest rumors suggest that Israeli model Esti Ginzburg is a hot favorite to become the next Bond girl. The eye-catching 21-year-old has been the face of Burberry, Tommy Hilfiger and she made her feature film debut last year in Joel Schumacher's thriller Twelve along Chace Crawford and Kiefer Sutherland.
However, Bond is definitely back!