Movie News
Bradley Cooper in Negotiations for Epic Paradise Lost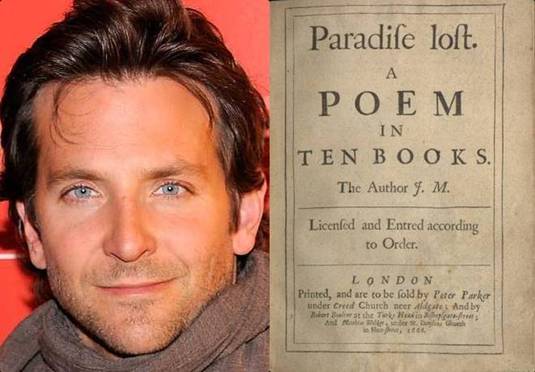 Seems Broadway veteran and born-Egyptian director have since become pretty good buddies. Or it's simply a coincidence and Legendary Pictures just wants back in business with Bradley Cooper (The Hangover). However, Cooper is in early talks to play Lucifer in an adaptation of John Milton's epic 17th-century poem Paradise Lost.
Don't tell me you didn't read this poem? Well, if you didn't have the patience to get through a long poem, no worries – you'll have the chance to watch it on the big screen.
The central story line is built around a few paragraphs in the beginning of Genesis—the story of Adam and Eve. The epic poem also uses elements from many other parts of the Bible, specifically involving Satan's role (Lucifer). Focusing his poem on the events surrounding the fall of Adam and Eve, Milton intended, in his words, to "justify the ways of God to men," by tracing the cause and result for all involved.
But the feature will be crafted as an action vehicle that will include aerial warfare, possibly shot in 3D with an epic war between archangels Lucifer and Michael taking place in heaven.
Director Alex Proyas (Knowing), who is also attached to the remake of The Crow (Cooper also in talks), signed to Legendary last September, so the Paradise Lost project has been in development for quite some time. Ryan Condal wrote the current draft of the script which has been tackled by five more writers.
Cooper will next be seen in The Hangover Part II, which opens on May 26, Memorial Day weekend. Actor is also attached to indie drama The Words with Brian Klugman and Lee Sternthal to direct from the script they have also written.
More updates as we have them. Stay tuned and check out the trailer for the upcoming Bradley Cooper comedy.
[youtube]http://www.youtube.com/watch?v=ohF5ZO_zOYU[/youtube]
The Hangover Part II – Trailer