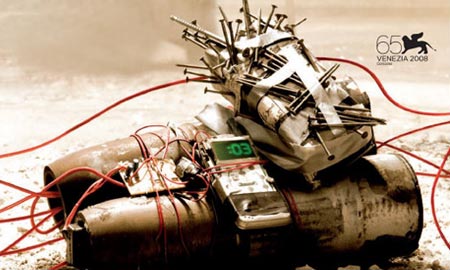 A brand new trailer for Kathryn Bigelow's highly-anticipated Iraq War movie "The Hurt Locker" has been premiered via Apple.
"The Hurt Locker," winner of the 2008 Venice Film Festival SIGNIS Grand Prize, follows three elite members of the Explosive Ordnance Disposal (EOD) squad who volunteer to challenge the odds and save lives in the streets of Baghdad. When a new sergeant, James, takes over a highly trained bomb disposal team amidst violent conflict, he quickly surprises his two subordinates, Sanborn and Eldridge, when he recklessly plunges them into a deadly game of urban combat, to seek out and disarm deadly bombs in a thrilling race against time.
This war movie is based on the first-hand observations of journalist and screenwriter Mark Boal, who was embedded with a special bomb unit in Iraq. It stars Jeremy Renner, Ralph Fiennes, Guy Pearce, Anthony Mackie, Brian Geraghty and David Morse among others.
"The Hurt Locker" opens to theaters on June 26th.