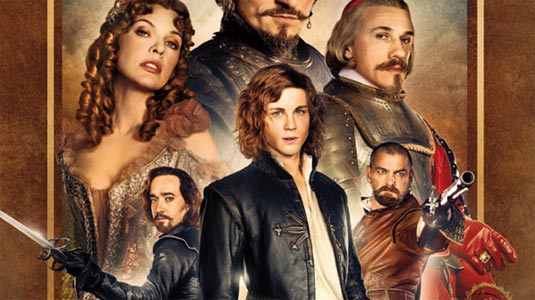 Today a new poster for the upcoming action adventure Three Musketeers has been released.
The Summit Entertainment film stars Logan Lerman, Milla Jovovich, Matthew Macfadyen, Ray Stevenson, Luke Evans, Mads Mikkelson, Gabriella Wilde, Juno Temple, Orlando Bloom and Christoph Waltz.
In The Three Musketeers, the hot-headed young D'Artagnan (Lerman) joins forces with three rogue Musketeers (MacFadyen, Evans and Stevenson). They must stop the evil Richlieu (Waltz) and face off with Buckingham (Bloom) and the treacherous Milady (Jovovich).
Check out the trailer for the film
The Three Musketeers opens on Oct. 14. 2011. [source: Yahoo!Movies]

The Three Musketeers Poster