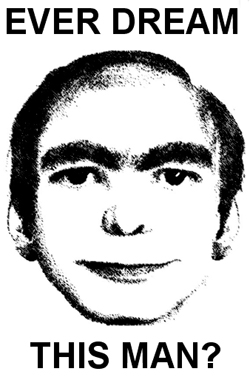 Fresh, scary news!
Bryan Bertino
, writer and director of
The Strangers
, is going to be in charge (both as writer and director) of
This Man
, a thriller based on a website
ThisMan
from Italian sociologist Andrea Natella which documents "a small group of people who see the same man in their nightmares that they've never met before." And his face is just gorgeous, you almost wish never ever to sleep again. Who knows, maybe after watching this picture, he visits your dreams as well? But let's get back to our report! At this point, looks like Bertino is the best choice, since we all know his 2008 horror thriller worked out pretty well. On the other hand, story really does sound interesting. Check it out: "In January 2006 in New York, the patient of a well-known psychiatrist draws the face of a man that has been repeatedly appearing in her dreams. In more than one occasion that man has given her advice on her private life. The woman swears she has never met the man in her life. That portrait lies forgotten on the psychiatrist's desk for a few days until one day another patient recognizes that face and says that the man has often visited him in his dreams. He also claims he has never seen that man in his waking life. The psychiatrist decides to send the portrait to some of his colleagues that have patients with recurrent dreams. Within a few months, four patients recognize the man as a frequent presence in their own dreams. All the patients refer to him as This Man". Huh, creepy games! And seems that Bertino just loves this kind of stories, because, let us remind you, he wrote and made his directing debut on The Strangers, which was produced by Roy Lee, Doug Davison and Nathan Kahane. He also wrote the screenplay for The Strangers 2 which is in pre-production for Rogue Pictures. Bertino and Adrienne Biddle are partnering with Ghost House principals Sam Raimi and Rob Tapert to produce the film. Ghost House principal Nathan Kahane will executive produce. J.R. Young and Mary Lee will oversee the project for the company. We definitely expect more details about
This Man
as soon as possible, so, everybody out there, have sweet dreams and stay tuned!