Movie News
Bryan Fuller to Script Live-Action Pinocchio
Live action
Pinocchio
is coming, and no, this report is not a lie!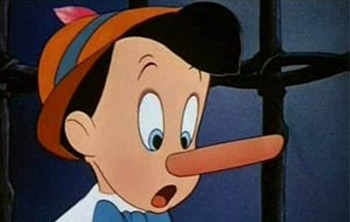 Guys from Warner Bros are in the early stages of producing a live-action version of the classic tale about a wooden puppet who desperately wants to be a real boy. They are looking to bring Pinocchio to life in a live-action feature through producer
Dan Jinks
with
Bryan Fuller
on board to script. We're all familiar with this character, right? Pinocchio first appeared in the 1883
Carlo Collodi
children's book
The Adventures of Pinocchio
, which is the story of "…the wooden puppet who learns goodness and becomes a real boy is famous the world over, and has been familiar in English for over a century. From the moment Joseph the carpenter carves a puppet that can walk and talk, this wildly inventive fantasy takes Pinocchio through countless adventures, in the course of which his nose grows whenever he tells a lie, he is turned into a donkey, and is swallowed by a dogfish, before he gains real happiness." As we already said,
Pushing Daisies
creator, Bryan Fuller is in charge for penning the script, while
Milk
producer Dan Jinks previously explained: "I think we've found a fresh approach that's going to be very entertaining. Pinocchio is one of the most emotional fairy tales. I'm over the moon at the opportunity to play with all the characters in this toy box with a large-scale re-telling. It's exactly why I love writing." The film is to be produced by Warner Bros, with no expected release at this moment. But, as usual, we'll keep you updated!