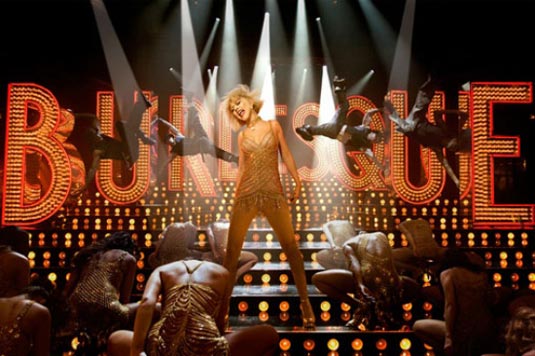 A movie trailer for
Burlesque
, the musical drama starring
Christina Aguilera
and
Cher
, has just debuted. Aguilera's Ali runs away from Iowa in search of fame and ends up waitressing at The Burlesque Lounge on the Sunset Strip. That is until
Kristen Bell
's headliner, Nikki, shows up tipsy one night and Ali must fill in. Ali helps turn what once was a lip-sync club into a singing-and-dancing revue after she displays her vocal fireworks onstage in numbers like "But I'm a Good Girl."
Cher
is Tess, owner of a retro club who has a modern-day problem: She can't make the payments on her over-mortgaged property. Together, Ali and Tess manage to transform the Burlesque Lounge into a success.
Stanley Tucci
is Sean, the lounge's stage manager, a go-to guy for the gals and best friend to Tess. Every night, Tess and Sean put together the costumes for that evening's performance. Other men in the cast include
Cam Gigandet
(Twilight) as Jack, Ali's piano-playing love interest;
Eric Dane
as entrepreneur Marcus, who tries to woo Ali away; and
Alan Cumming
as Alexis, the gender-bending doorman. The film is directed by
Steve Antin
.
"People think burlesque shows are rooted in some overtly sexual striptease with G-strings and pasties. But originally it was parody entertainment meant for the middle classes that was provocative, funny and always based in comedy. That's not to say the movie isn't really sexy. But it's PG-13 sexy,"
Antin told USA Today how his film will be.
Burlesque
will land in cinemas on November 24, 2010.
Check out the new trailer below, then sound off with your reactions in the comments below.
Burlesque Trailer
Burlesque Movie Photos